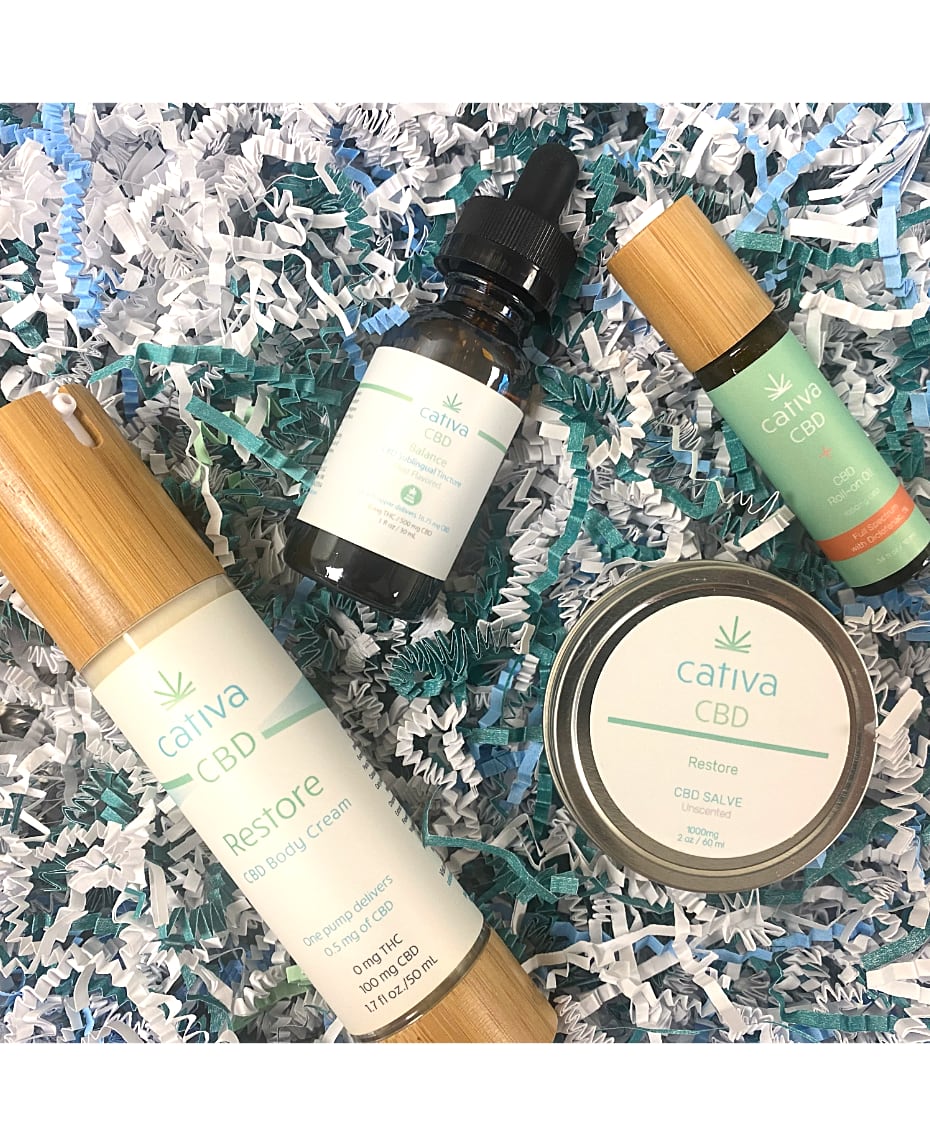 CBD Athlete Gift Box
A perfect gift for yourself or the athlete in your life. The CBD Gift box contains a variety of CBD products to try!
Balance CBD Sublingual Tincture - 1 oz / 500 mg
Plus CBD Roll-on - 10 ml - 1000 mg
Restore CBD Body Cream - 1.7 oz / 100 mg
Restore Salve - 2 oz / 500 mg
Disclaimer: These statements have not been evaluated by the Food and Drug Administration. This product is not intended to diagnose, treat, cure, or prevent any disease.
---
The Ingredients
Balance CBD Gum
Gum base, Maltitol, Sorbitol, Xylitol, Isomalt, Natural flavors, Vegetarian magnesium stearate, Silicon dioxide, Stevia, Hemp Extract-CBD Cannabidiol
Balance CBD Sublingual Tincture
Coconut Oil (MCT Oil), Natural Peppermint mint flavor, CBD, CBG
Plus CBD Roll-on
MCT Oil, Coconut Oil, CBD, Magnesium Oil, Eucalyptus, and Frankincense
Restore CBD Body Cream
Water, Aloe Barbadensis (Aloe Vera) powder, Glycerin, Xanthan Gum, Evening Primrose Oil, Butyspermum Parkii (Shea) Butter, Glyceryl Stearate, Cetearyl Olivate (and) Sorbitan Olivate, Cetyl Alcohol, Cannabidiol, Tocotrienols, Heptyl Undecylenate, Water & Chamomilla Recutita (Matricaria) Flower Extract, Algae Extract & Arnica Montana Flower Extract, Mannitol (and) Chlorella Vulgaris Extract (and) Haematococcus Pluvialis Extract (and) Lecithin, Phenethyl Alcohol, Parfum, Lavender Oil, Jasmine Oil, L-Arginine
Restore CBD Salve
Coconut oil, olive oil, beeswax, fragrance/essential oil, CBD, vitamin e, and CBG.
"Due to the stigmatization of sp. Cannabis sativa and the cannabinoids produced by said plants, little was known about what benefits or dangers that may exist. This leads to why science-backed CBD is so important as it...
We're all familiar with the stress that parenting can put on moms and dads both, mentally and physically. Whether it's sleepless nights, anxiousness, or just the regular aches and pains associated with chasing the kids...